Lately I feel like I'm rushing around all the time, even while I'm sitting still staring at my computer screen, waiting for something to happen.  Does that ever happen to you?  You feel somehow frantic and extremely bored at the same time, eyes anxiously skittering across bite-sized half-stories that don't really have any true impact on your actual lived life, but you can't quite stop looking for the one that just might matter, somehow? I mean, I have plenty to do between coaching work and a book that just came out a month ago. But on the days when work is slow and there aren't any hovering deadlines…somehow those days it's the worst, like I'm being sucked in to the device I'm on just to be chewed on and held captive, a sort of indigestion that persists until I remember I can actually pry open these virtual jaws and step out into real light. 
I don't want to feel like I'm rushing all the time, especially as a person who tends to write about things like slow living and simplifying on a regular basis.  Even those of us who spend a lot of time thinking about slow things fall prey now and then to dominant culture's persistent call to optimize, to always be looking for the next success, to reach higher, faster.  To not miss out, to ensure our personal brand is being promoted properly, to be on, just in case. But this means I'm never truly in the state of flow that leads to what I actually want, right?  To be rushing around all the time, bouncing between websites or half-baked projects or things I should 'check just in case' means I'm not focused on anything deeply.
Deeper, not wider, as the saying goes. Seems simple enough but it's not, is it? It can feel like you need extreme tunnel vision or a personal retreat center with no wifi to maintain deep focus. It can feel like not seeing measurable progress or outward facing success in at least one aspect of your professional life on a daily basis means you must be doing something wrong, whatever 'wrong' means in a society that has its head on backwards [more than] half the time.
I want to feel more like I imagine moss feels, or a bristlecone pine, or lichen, the slowest and oldest forms of life I can think of. Kerry Knudsen, a lichenologist, proposed that lichen is the "ultimate resistor to capitalism"–one of the oldest life forms on the planet, lichen can take millenia to mature fully.  I think of lichen with its sagey green or orange scales on the old rocks near where I live, and I admire the patience, the power it holds because of the ability to simply cling and exist, inching each year toward the sort of self-awareness only very old, very slow moving things can acquire. I think of rhizocarpon geographicum (or "map lichen") in the Arctic which has been dated to 8,600 years old, one of the oldest living things on earth.  I try to imagine what lichen on those ancient Arctic rocks has witnessed over the years by staying still and paying attention. 
Rumi said, "When I run after what I think I want, my days are a furnace of stress and anxiety; if I sit in my own place of patience, what I need flows to me, and without pain. From this I understand that what I want also wants me, is looking for me and attracting me. There is a great secret here for anyone who can grasp it."
Granted, sitting still and taking things slow can certain FEEL painful. Yet there's something to practicing patience, to uncovering the secret Rumi was getting at. You can only grasp it if you're moving slow enough to notice what might be looking for you.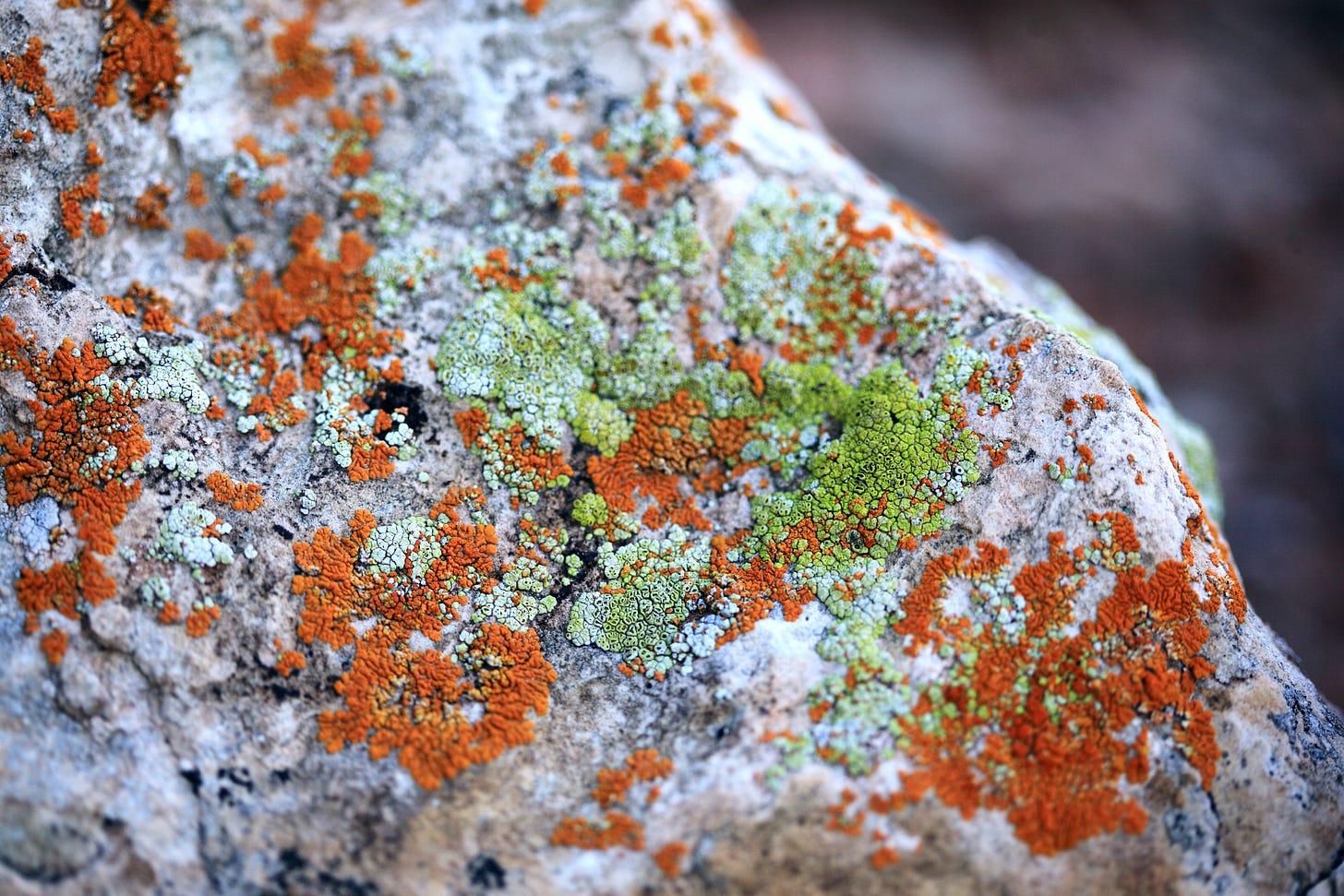 Have the patience of lichen growing slowly on ancient rocks. Let what you need come to you, because you've been still enough to fully inhabit your own place –a stillness that has allowed you the capacity to know what's truly yours– rather than chasing what you think you should want, rather than searching frantically something you can't quite name where it can't be found. Step out into the light and bask in the kind of slow beauty embodied by lichen clinging, growing so slowly you'd never notice—unless stillness found you before you went off searching again.